Last week I received an email from our Japanese to English translator, Dylan Luers Toda, that made my heart skip a beat. He wrote that he completed the translation of chapter 2 ahead of schedule and had attached it to his email. His translation of chapter 1 was amazing, and I've been waiting years to read Kaiji Tomita's 1933 Japanese Reiki book in English.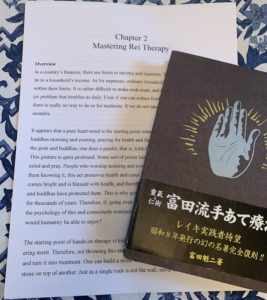 It took me a week before I could read the document Dylan sent. I saw it in my inbox each day but I was so busy I knew I couldn't give the text the time and consideration it deserves. When I finally was able to settle in alone in silence and dig in – Wow! I was amazed. As in chapter 1, Tomita's explanations of Reiki and his personal experiences with it are exactly like my own, but described more eloquently that I could possibly describe them. Chapter 2 did not disappoint.
In the meantime, the reason I was so busy is that we have been organizing and hosting a 5-part Webinar series called A Century of Reiki with Dr. Justin Stein, in which the noted historian presents on the hundred year scope of Reiki history. The first webinar Sunday May 31st was amazing and extremely well attended by many Reiki professionals. It was also amazing in that, in addition to being fantastic, it raised most of the money we need to commission the translator to begin his translation of chapter 3.
So my news for those of you reading this update is that we have not been slowed down by COVID-19 or by social unrest. We are ahead of schedule, on budget, and the material we're getting back from the translator feels fresh and original, and is in the authentic voice of Tomita who wrote it almost 90 years ago.
We thank you for your ongoing support of Reiki Centers of America and our efforts to make this old book available to a global readership. We will continue updating you on the Tomita Book Translation Project until the book has been published and is available for sale.
With Gratitude,
Brian Brunius
Reiki Centers of America, Inc